Japanese home style cooking school in English

        ~Grandma's Nagoya Cuisine & Japanese Cuisine~

    Why don't you try making Nagoya's traditional dishes with healthy fermented seasonings
    (soy sauce, miso, vinegar etc.) from Aichi prefecture.
    You can also make Japanese-style confectionery (Uiro) for dessert
    and matcha to go with the dessert.
1.Nagoya Cuisine Class

・Three Deep-fried Shrimp Rice Balls
             (tenmusu3)

・Kishimen Noodles(kishimen)

・Sauteed Miso Marinated Chicken


・Thick Omelet (Atsuyaki-tamago)

・Basic Dashi stock(Dashi )


・Matcha & Uiro (matcha&uiro)

¥7,500(tax included)/2.5hours

Jun.25, 2019  10:30~13:00
Jul.23 & 26, 2019 10:30~13:00





2.Seasonal Japanese Cuisine Class

・Rolled Beef with Okra

・Saikyo-yaki of Salmon

・Rolled Omelet


・Rice Balls with Tsukudani of Shirasu)

・Miso-soup of the season


・Basic Dashi stock

¥8,500(tax included)/2.5hours

Jun.28,2019 10:30~13:00
Jul.2&5,2019 10:30~13:00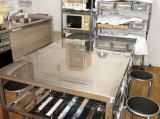 I am Grandma Junko, born and raised in Nagoya. I like cooking and teaching how to cook, especially Japanese food.
I have a cooking license. I am a Confectionery Hygiene Master and a vegetable sommelier.
I have learned many recipes from my mother and my mother-in-law and studied at cooking schools.
I opened a natural food shop about twenty years ago and started a healthy cake and a natural yeast bread cooking class in 2002.
I had a pleasant time cooking together with my son's host-mother from America.
This experience made me want foreigners to know that the Japanese food, " Washoku" is tasty and healthy.
I welcome everyone.




Using the Subway (Sakura-dori Line) from Nagoya Station is convenient.
Nagoya Station → Sakura-dori Line (bound for Tokushige) .
Get off at Sakurayama Station (S11), about 2minutes west from Exit 7 .


Address:1F SJ Sakurayamabiru, 6-69-4 Hiromi-cho, Showa-ku, Nagoya-City, Aichi
Manpyo Ltd.
Gmail:junkomanpyo@gmail.com
Fax:052-851-1271

Please write your information
①Name/②Country/③Date/④Menu/⑤Number of participants
◇Let me know if you have any allergies.
◇Please do not hesitate to ask me if you have any questions or requests.

◆After receiving your email, we will get in touch with you about payment and other details.
Your booking will be complete when we send you a "booking acceptance email."

Payment
●Can be paid through "PayPal" only.
Cancellation Policy
●No cancellation fees until 5 days before the class.
●Lesson fees (7500yen) will be need to be payed when cancelling from 4 days before the class.